Give me a chance and I'll show you all I can do
In 2015, sportsmen and women with disabilities have decorated Bosnia and Herzegovina with the most glorious medals. One of those medals, for outstanding swimming, belongs to Adnan Pribišić from Sarajevo, who is talking today, however, about how he swims through everyday life, through a sea of prejudices.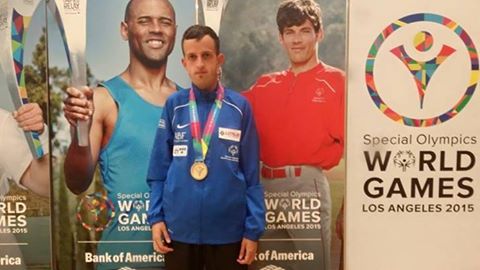 Adnan has intellectual difficulties and is a member of the Oasis/Oaza Association, a non-governmental organisation that offers support through public advocacy in the local community to individuals with intellectual difficulties and their families, by developing programmes in the areas of education, training for the workplace, social inclusion, and rehabilitation, all with a view to preparing and outfitting them for living independently, with support.
"After finishing primary and secondary special school, I joined the Oaza Association. As there was no chance of getting a job, I decided to get involved in sports. After a while, I began to train more seriously at swimming and I've been doing that for seven years now. I have tried to show what people with intellectual difficulties are capable of through my own effort and successes. I have been trying to make a contribution through sport and my sporting achievements to make life easier for people with disabilities, to make progress," Adnan says at the beginning of our conversation.
Oaza and MyRight have given Adnan support in both the process of training and that of preparing for his major sporting successes.
"As part of the 'Sport is My Right' project, we had training in the area of sport. Thanks to this and other projects financed by MyRight over the years we have been able to achieve an acceptable training process and theoretical education in sport. One result has been our sports achievements both at home and abroad, all of which has made it easier for us to get involved in the social mainstream," he stresses.
As he says, he meets with prejudice and obstacles everyday. But he has found ways to deal with them successfully.
"It's simple, every success, every activity, every result we achieve, makes me happier, stronger, better, and gives me the strength to go on, to move the boundaries, and to break down the prejudices about people with disabilities. Every day I try to live the best life I can and to ignore the prejudices," he says.
Asked what he thinks the most common and greatest prejudices about people with disabilities are in society, he replies:
"I think that people often see us as not really capable of doing much. Whenever I get the chance, I persuade them to change their opinion. The biggest problem is people's lack of education, not to say ignorance. I think that we should all have equal chances and opportunities and achieve as much as we can, or more, even,"he says.
In Oaza, they agree with Adnan.
"People have fairly little knowledge about this group generally and certainly about their capabilities or potential. Just like everybody else, people with intellectual difficulties have talents, in addition to their difficulties.So, some have achieved great successes in sport, in creative work, music, etc. Generally speaking, this group's potential tends to be written off in advance for the simple reason that people are poorly informed about them," they tell us in the Association.
Their faith in the capabilities of people with intellectual difficulties has led them to new understandings.
"In our work with people with intellectual difficulties, we have noticed that they tend to be very responsible and reliable and that they try to carry out every task, putting everything they have into it. Moreover, there are very attached to their friends and to anybody who treats them as a friend," they say.
Adnan has something to add. He points out that it takes very little to get to know people with intellectual disabilities, as they really are.
"Mostly, I would like to explain that disability is not a reason for someone not to live life to the full. People without disabilities need to get over their prejudices about us because we can all realise our goalsand everyone need a little support and help from time to time," he explains.
On the one hand, he was denied the logical course of events, a job for him to earn a living and show, once again, what he could do. On the other hand, he turned towards opportunities where they were available to him and made the best possible use of them.
"I am particularly proud of the gold medal I won for swimming at the Olympic Games in Los Angeles last year. There have been plenty of other sporting successes, but that was the biggest and most significant one. To get gold at any major sporting event, against such strong competition, with over 180 countries taking part, really is an amazing success. I have also received recognition as a successful sportsman with a disability from the BiH Sports League and Novo Sarajevo municipality" he recounts.
He has the full support of everyone around him. Thanks to them, he has arrived at a very simple recipe for a happy life, one he follows himself.
"My biggest support is family, and then my friends from the Oaza Association, my trainers and the other members and employees at the association. The recipe for a happy life, whether or not you have a disability, is very simple! You need two things – first to believe in yourself and that you can realise your dreams and then not to be afraid of asking for help and support from other people. It doesn't matter whether you have got a disability or not, we all need that," he says.
He is aware that people with disabilities, including himself, are not always in the best position, but Adnan says it's mostly a matter of how you look at things.
"We live in Bosnia and Herzegovina, a country in which people with disabilities are largely ignored, and so we are ignored by certain groups of our fellow citizens who have prejudices about our condition. But, my message is simple – we're all people, just some of us enjoy a better start and conditions in life," he concludes.
Adnan's story was told as part of the #PonosniNaSebe campaign, conducted between April and December 2016 by the MyRight organisation, in cooperation with five coalitions of organisations of persons with disabilities from Bosnia and Herzegovina.
Austrian Development Co-operation and Light for the World have funded creation of this web site


Copyright (C) 2015 - Myright, Empowers people with disabilities
All Rights Reserved