Happiness is being alive and making a contribution through your work
He was a professional footballer. And a worker with a trade. And then, 12 June, 1993, happened. He stepped on a mine, which led to the disability he lives with today. We are talking with the field coordinator (FC) for the Bijeljina Town Coalition of Organisations of Persons with Disabilities – KOLOSI, Milorad Mišo Jović.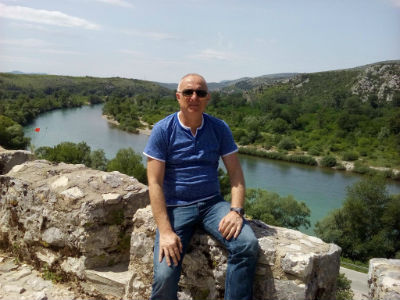 "I was wounded by shrapnel from a landmine in the legs, arms and spine, basically all over my body. It was never removed, either. I live every day with the pain and the psychological consequences caused by that incident with the mine. The consequences of my wounding were treated in a series of different institutions over about eight months, right after it happened. My movement is still restricted today and the damage to my spine is a major problem, while my reduced motor functions stop me from doing a whole range of things I used to enjoy before I was wounded and got my disability," says Mišo.
Living with a disability changed his daily routine completely. A professional sports career was no longer an option. Norwas employment in his trade, unfortunately.
"I was employed professionally as a highly-skilled metal polisher, but after my disability it was no longer an option for me to continue in that trade. I wasn't competitive on the labour market for the profession I had trained in and in which I'd made a very good living up till then. I was still relatively young, just 34 when I was wounded, but I was no longer accepted or looked on as someone who could be of usein my environment, like I had been before the wounding. I just wasn't any more," he explains.
And that was when he started to fight back like a champion. He turned tothe non-governmental sector and to advocacy for people with disabilities, because he was one of them now, however hard it might have been for him to imagine that before.
"It is a satisfaction for me that, as a mine survivor, I worked for 15 years in the Mine Survivor's Initiative (IPM, formerly LSM). The high points of my career have been working in the Regional Amputees'Association in Bijeljina and, now, as a MyRight field coordinator for the Bijeljina Town Coalition of Organisations of Persons with Disabilities – KOLOSI. It was a crowning moment when the town of Bijeljina declared our coalition, KOLOSI, an organisation of common interest. I consider that an outstanding success I share with everybody gathered around the coalition. Over this period, the 21 years I've spent in the non-governmental sector, I have had a lot of training and got a lot of certificates that have helped me workin all areas of the struggle for our rights," he recounts.
Even in moments when it has been difficult to represent the interests of the group he belongs to, he has found support amongst those closest to him.
"I'm the father of twins, a son and a daughter, in a happy marriage that has lasted 32 years. I'm the proud grandfather of Athena. When you have something like that, you can say that despite all the trauma you lived through after getting the disability, the lengthy recovery, the psychological and other difficulties, you're luckyjust to be alive and to be able to work, help others, and share your day-to-day life with your family, friends, and colleagues. You can make a contribution through your various activities and make life easier for people with disabilities, improve it. Because of that you have both the opportunity and the responsibility to fight for your own and their human rights. In a nutshell, every success, every activity, every achievement makes you happy and gives you the strength to go further, further than you expected, and never to stop, so that sometimes you forget you're a person with a disability who they are trying to put out of the way, behind invisible boundaries,"he says.
And when you don't give up, you end up with a lot of medals to be proud of. Mišo is proud of his achievements, but even prouder of what people with disabilities have managed to achieve overall in a society like ours.
"Even if we are somehow different from others, we're different because we're marginalised, because they see us and experience us as a burden. Be we should and must be proud of ourselves for being unique, once-offs,for having succeeded in so many things, for achieving immeasurable results under circumstances where success would not be guaranteed even with far better preconditions, because we have amongst our number so many successful individuals in all areas of life – from sport, including sitting volleyball, wheelchair basketball, marksmanship,swimming, and athletics, through art, culture, music, and so many other professional occupations. That's what we are proud of, that's the real us, and we are good and successful at it, even when those around us don't take us seriously, never mind support us," our interlocutor says.
Through this mass of personal experiences, of steps taken, climbs conquered, he has learned something he wants to share with other people with disabilities who are just beginning to mature and start fighting for themselves and for their place under the sun.
"Nobody is going to just hand us a better life or more rights than we already have, if we don't organise ourselves first, without prejudice or politicking, regardless of what type of disability we have, regardless of how the disability came about, and raise our voices and demand everything that we are guaranteed as part of civilised life under the Constitution and the various conventions. That's all fine on paper, but it won't help us a bit unless we are continuously training ourselves, educating ourselves, organising ourselves, and taking concerted action in the fight for what is essentially the same goal. The imaginary boundaries and borders between us are greater chains than our disabilities, if we allow the people who make important decisions about our lives togo on manipulating not just us but other people without disabilities whose voices can also have an impact on everything that contributes to our day-to-day life," Mišo concludes at the end of the conversation.
Mišo's story was told as part of the #PonosniNaSebe campaign, conducted between April and December 2016 by MyRight in cooperation with five coalitions of organisations of persons with disabilities in BiH.
Ana Kotur for MyRight
Austrian Development Co-operation and Light for the World have funded creation of this web site


Copyright (C) 2015 - Myright, Empowers people with disabilities
All Rights Reserved